Shopify has concluded a partnership with YouTube starting July 2022.
Shopify, one of the largest eCommerce platforms, has been growing since it started in 2006. More than 4 million eCommerce sites are built with Shopify according to Builtwith.com.
Shopify started a partnership with YouTube in July 2022. Your Shopify store will be able to directly expand to the YouTube market where 2.1 billion monthly active users exist all around the world.
In order to keep up with the trend of eCommerce, which leverages the combination of social media and online stores to promote product sales, this article will help you master YouTube x Shopify.
Flatline Expert
YouTube will be the key sales channel in the comming years for Shopify.
What can you do? YouTube x Shopify
If you integrate Shopify into your YouTube channel, you can use these features on YouTube:
Live shopping experience
Show your products below YouTube videos
Add a store tab to your channel page
Let's take a look at each feature!
Live shopping experience
By integrating Shopify into your YouTube channel, your viewers can purchase your product while they watch the live streaming. While you explain your product features or show product appearances, your viewers can go to your product page directly from the YouTube browser or YouTube app as soon as they like the product.
Show your product below videos
YouTube viewers can experience a seamless transition from YouTube to the Shopify store by integration. For example, if an influencer introduces makeup products, you can put the product image of cosmetics and the URL below the video.
Add a store tab to your channel page
A store tab can be added to your YouTube channel. Your subscribers or channel fan can browse your product from the store tab.
This store tab is connected to your Shopify store so you don't need to manage this page. If your product is sold out on the Shopify store, the product is automatically hidden from the viewers. Inventory and sales information can be managed from the Shopify admin as you do as usual.
How to integrate Shopify into your YouTube
YouTube x Shopify collaboration brings advantages to your business by expanding your sales channel. Now, how can we integrate Shopify into your YouTube?
Requirements
Not everyone can work with YouTube and Shopify; you must meet the following eligibility requirements set forth by YouTube officials in order to sell products on YouTube.
The channel is monetized
It has more than 1,000 subscribers. Or it is an official artist channel
The channel's target audience is not geared toward children
Few videos violate the channel monetization policy
The channel has not received any Community Guidelines violation warnings
Once you meet these requirements, you can sell your product on YouTube. You can know more about channel monetization from the YouTube Partner Program overview & eligibility.
Steps to integrate Shopify into Youtube
1. Install the Google channel
Install the Google channel in the Shopify app store. With this app, you can connect Google services to your Shopify store.
2. Connect YouTube with Shopify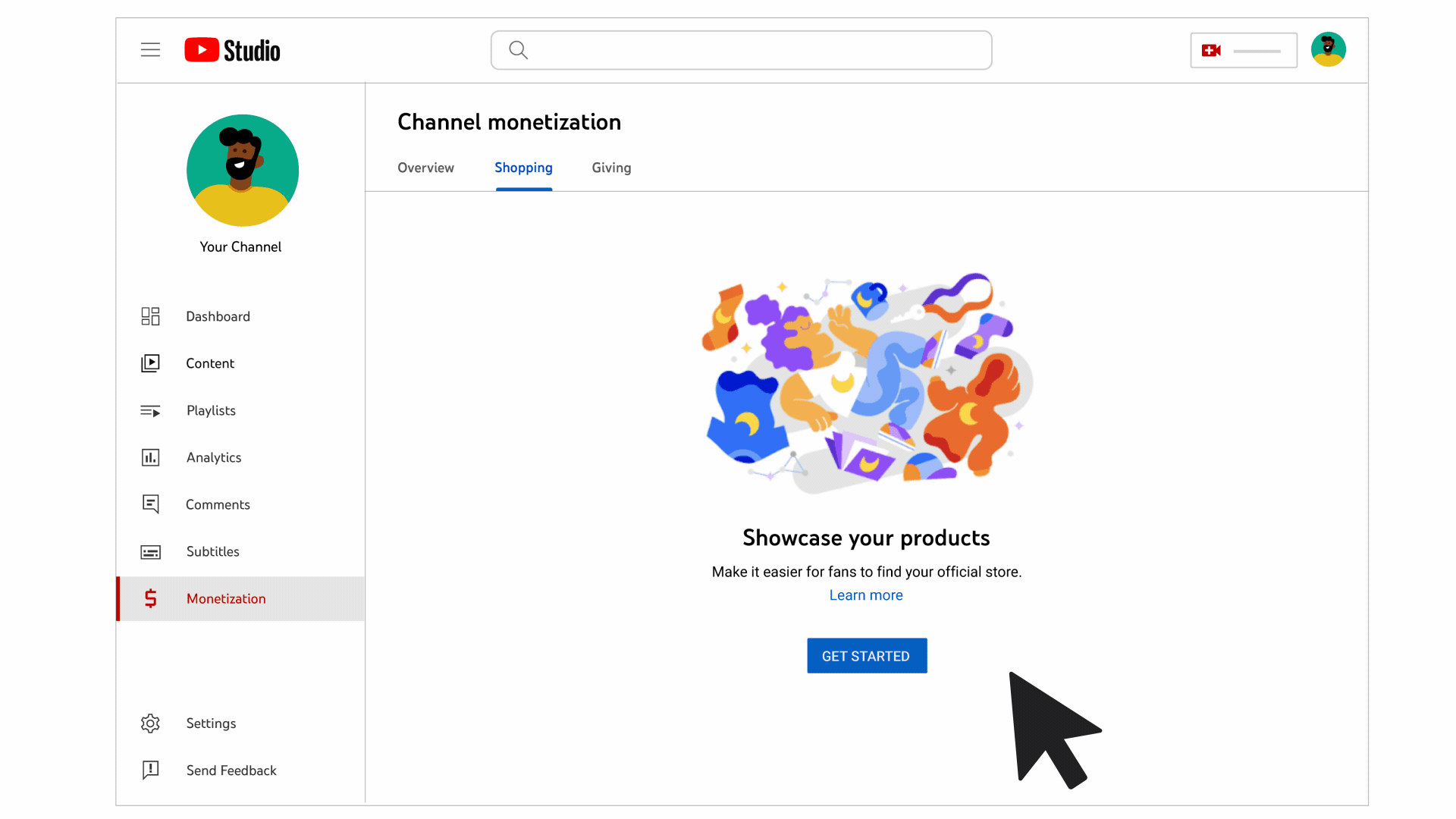 Connect your YouTube account from the YouTube Studio. You can connect YouTube with Shopify with a few steps!
3. Add products to your videos
Choose which product you want to sell through YouTube videos and add them to your videos from Monetization > Shopping.
Conclusion
Shopify and YouTube can be integrated easily with a few steps. In the recent trend that consumers tend to watch product videos to the reading product description on web pages, this YouTube approach is going to be a big chance to increase your sales on your Shopify store.
If you are interested in starting Shopify or growing your Shopify store, contact us. We specialize in custom development and marketing your Shopify store.